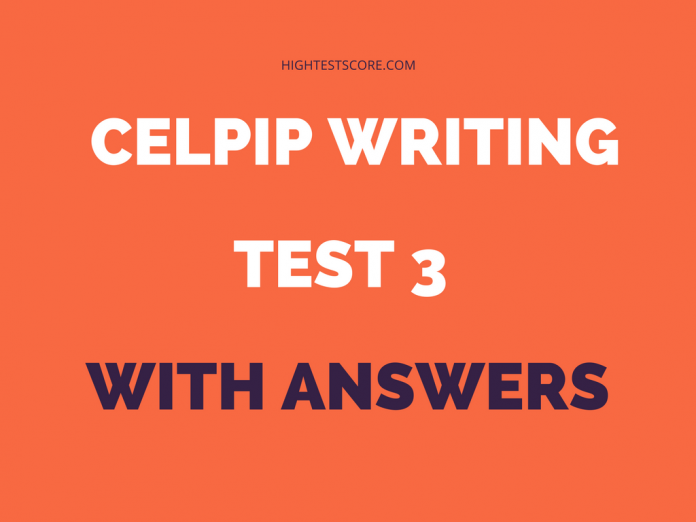 2
Writing Task 1: Writing an Email
Read the following information.
Your niece has just graduated from high school with remarkable grades. She was the brightest student in her class. However, she wants to work immediately and does not consider going to college.
Write an email to your niece in about 150-200 words. Your email should do the following things:
– Explain how you feel about her high school grades.
– Explain why going to college is necessary.
– Explain why working instead of perusing her college education is a mistake.
Read the sample answer and try to write your own response in the comment area. I will try to give you an estimate score.
Note: For Note: For 8 $, I will email you a detailed review of your writing tasks along with my corrections and recommendations. You can provide your answers in the comment area or email them to me to "contact@hightestscore.com". I will then send you my reviews to the email you used while paying. Here is a sample of the review you'll receive. 
Thanks for your support! If you are having any trouble making payment, please contact me at "contact@hightestscore.com"
Task 1 Sample Answer
Dear Jessica,
Hearing about your high school graduation made me very proud of you. I felt an unimaginable delight going over your excellent grades the other day. Be that as it may, accepting a job position at this early stage is a premature unwise decision.
The importance of higher education in our modern age in both academic and work level is of paramount significance. Your intellectual dimensions will grow immensely in college. Besides, exploring your inner qualifications and capacities would only be possible in a scholarly atmosphere. Not to mention the new relations and friendships that will positively affect your professional life.
Starting a job so soon would have numerous negative outcomes. To start with, do not expect a respectable high income that would secure your financial life. A higher pay rate means a higher degree which you would be lacking. Moreover, the pain and regret you will experience seeing your friend's successful careers who continued their studies would simply devastate you.
Though I am not your father, but it is still my responsibility to warn you when I feel you are in the wrong track.
Yours,
"name"
Task 2 is on the next page